Three-sided
Braked
330x180
Alu sides, 30cm high
3500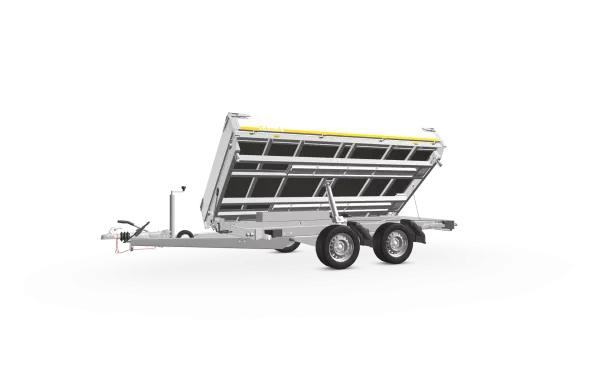 Gardener
Braked
330x180
Alu sides, 30cm high
3500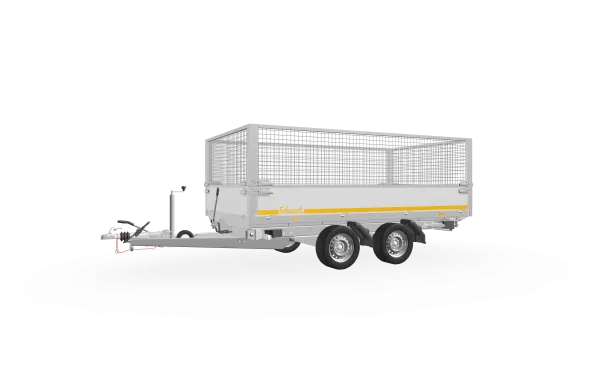 Are you looking for a trailer that really gives you every opportunity to get your job done? Choose a three-sided tipper trailer double axle braked. This type of tipper trailer has a loading floor that can tilt to as many as three sides. This allows you to easily unload your load anywhere. Even in hard-to-reach places or locations with little room to maneuver.
A three-sided tipper trailer for all your jobs
Tipper trailers are ideally suited for transporting loose cargo. For example sand, gravel or garden waste. You unload your load effortlessly by tilting the loading floor to the side of your choice. This way you are not dependent on driving directions and you never have to turn the trailer at impossible angles to reach the correct position for unloading.
Thanks to the electrically controlled hydraulic pump, you can tip the loading floor quickly. Up to a load of as much as 3,500 kg, this is done in no time. Thanks to the steel floor plate, loose load can slide well which only facilitates unloading.
Why choose an Eduard trailer?
Dealer network
Always an Eduard dealer nearby
1400+ Tipper trailers
A suitable trailer for every job
Handcrafted
Professional in-house production
Configure yourself
Exactly how you want it using our configurator
Choose the right size
Our three-sided tipper trailers double axle braked are available in two different sizes. The smallest version measures 310 x 160 cm and the larger variant measures 330 x 180 cm. Depending on the nature of the jobs you will be doing, choose a size that fits. If in doubt, you can always get advice from an Eduard dealer in your area.
With an Eduard three-sided tipper trailer, you can count on the best quality and high-quality finish. We ensure that you can confidently hit the road and perform your job optimally.
Accessories for three-sided tipper trailers
At Eduard Trailers, we also offer various accessories that you can use in combination with a three-sided tipper trailer. For example, you can choose steel or aluminum ramps. This allows you to easily drive a wheelbarrow on your trailer or transport machinery. For gardeners, we always recommend a set of haulm racks. This way you increase the loading volume of your tipper trailer. Discover all possible accessories for a three-sided tipper trailer.
Accessories
for three-sided tipper trailers
Ramps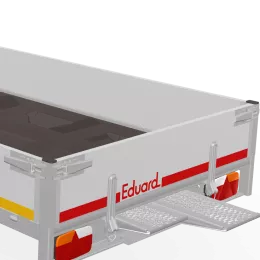 mesh sides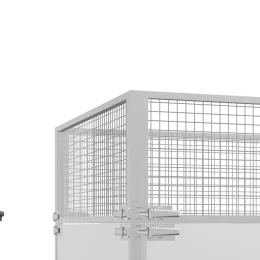 Additional side boards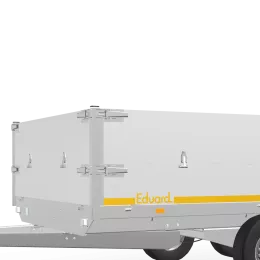 Ladder rack
DIMENSIONS + WEIGHT
| Dimension | 2000 | 2500 | 2700 | 3000 | 3500 | kg |
| --- | --- | --- | --- | --- | --- | --- |
| 311x160 | ◉ | ◉ | ◉ | ◉ | | |
| 330x180 | ◉ | ◉ | ◉ | ◉ | ◉ | |
Advantages of Eduard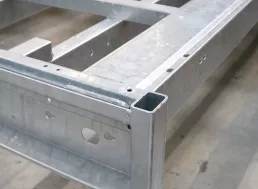 Galvanized
Fully welded en hot-dipped galvanised chassis that can handle any job.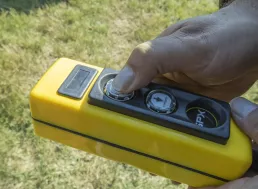 Comfort
Choose from manual, electric or wireless controls.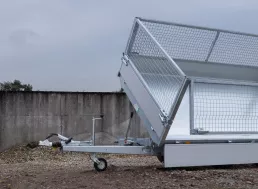 Low maintenance
From 1350 kg standard with a steel floor plate.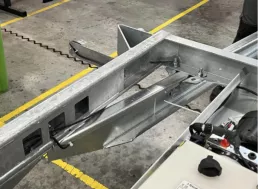 Strong
Extra reinforcement at the lower chassis for optimal tipping of your cargo.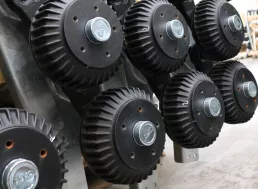 Robust
Exclusive use of A-brand braking systems and axles. (KNOTT & AL-KO)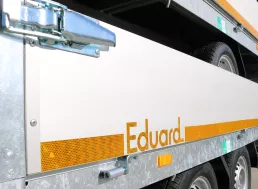 Safety
Highly visible reflective tape with ECE104 quality mark